ELLE Galan 2023

ELLE Sverige
Invitation ect
2023
ELLEGALAN2023
Collaboration with Magda Lipka Falk

"The ELLE Gala was established in 1998 and is the biggest fashion event of the year and it occurs annually. Both existing and emerging creators in the fashion world are celebrated here. The Elle Gala 2023 is hosted by Kakan Hermansson and Amie Bramme Sey" - Elle.se
The theme for 2023 Gala is "New Dimensions."

Invitation cards, program sheets, goodie bags, etc


Pictures: Ella Walfridsson
Exhibitiondesign/Layout/Illustration
The gala is held at Grand Hotel, Östermalm in Stockholm.
YEAR CALENDAR for 2020.2021.2023
Esterior, Rönnels, Moderna Museet and more
Wall-Calender
2020.2021.2023
a year calendar devolup for a couple of years for the upcoming 2020, 2021 & 2023. Sold in different shops and museums.
A3 format, Risograph printed on Design paper Munken pure 150g, assembled with metal clip.

Calendar inspired by the phenomenon of Synesthesia.
The shapes and colors are developed after my own imagination about the months.

"Four percent of the population has some form of extra experience closely linked to sensory impressions or thoughts, something called synesthesia. Numbers, letters, days of the week - or other linguistic units included in a sequence - are linked to colors." - Karolinska Institutet / Research / Neuroscience and mental health

Calendar has been sold at:
Moderna Museet
Esterior Shop
Rönnells antikvariat
Papercutshop
KONST:IGT
Konstfack
Pictures: Ella Walfridsson
Illustration/Form/layout
Calendar in window of bookstore Rönnels, Sold at Moderna Museet, Featured in interior projects and in the magazine "Dagens Industri weekend" article "I blickfånget" form december 2022
"Ur motståndet skapas nya former"

Konstfack - University of art craft and design
Exhibition project
07-13.05.2022
In my Exhibition project from Konstfack - University of art craft and design, have I examined the visual experiences of reading with dyslexia.
Through interviews and research have I developed new letterforms and fonts based on the different experiences. My aim is to show the visions we dyslexics get and highlight the many positive aspects of being dyslexic. The mind's small misconceptions create new stories and forms that did not exist there before. Open up for a more playful, experimental and diverse world of letterforms.

Being dyslexic makes it difficult to decode text in different ways, as the mind spins the sentences around. Makes the content more difficult to understand. Different individuals with dyslexia experience these difficulties in different ways. Some experience that the words shrink, others that the black ink on the page thickens, the words become blurred, the mind invents new shapes and movements. "Narrative and dynamic thinking. Dyslexics often develop predisposition for valuable abilities, the challenges they have are a consequence of a different brain structure. These strengths result in abilities such as being able to think three-dimensionally, see creative connections, create stories and predict scenarios." – Fernette F. Eide & Brock L. Eide (2012) The dyslexic advantage : unlocking the hidden potential of the dyslexic brain.

More information about the project (SE) https://thelettersstarttodance.tumblr.com
Pictures: Ella Walfridsson
Lettering/Exhibitiondesign/Typedesign/Layout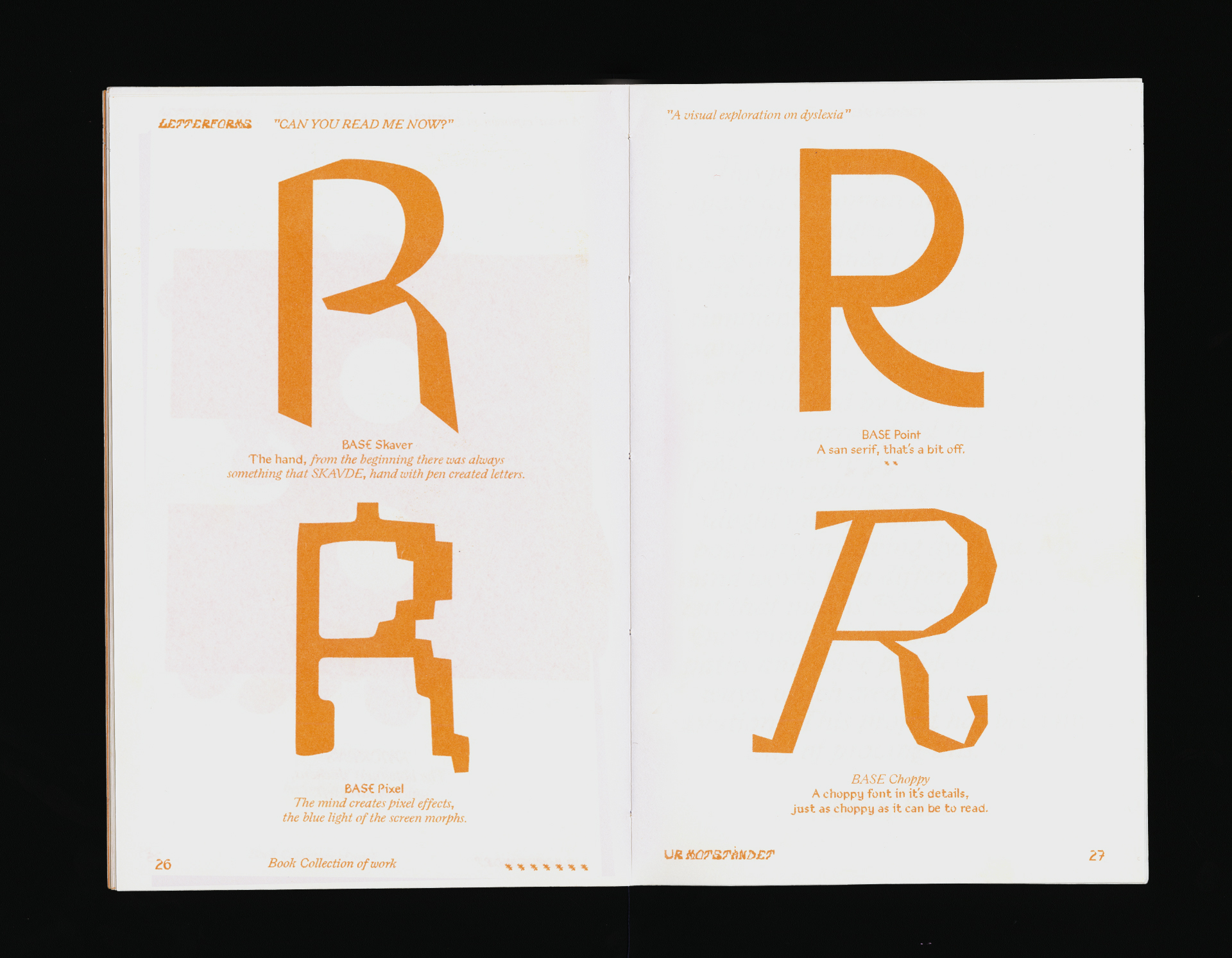 Publication "CAN YOU READ ME NOW" 17x15,5cm, Risography print on Munken pure 150g.
The project received THE FINALIST AWARD from NEWONE AWARDS in the category TYPE DESIGN

Typefaces
Mix of work
2022-2023
Mix off beta typefaces

Typedesign
Tompa & Walles Punsch
Tompa & Walles
Packaging Liquor
2022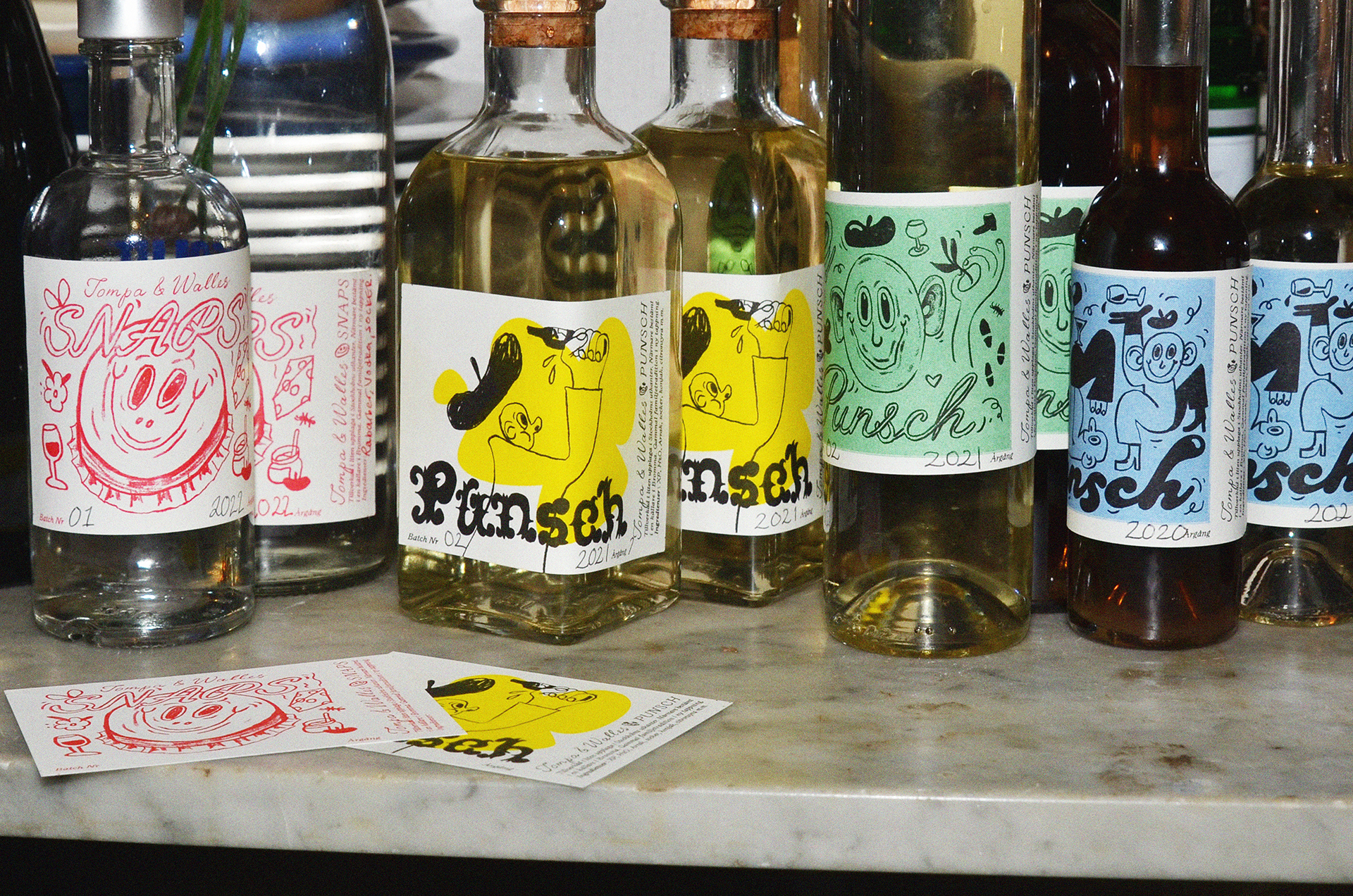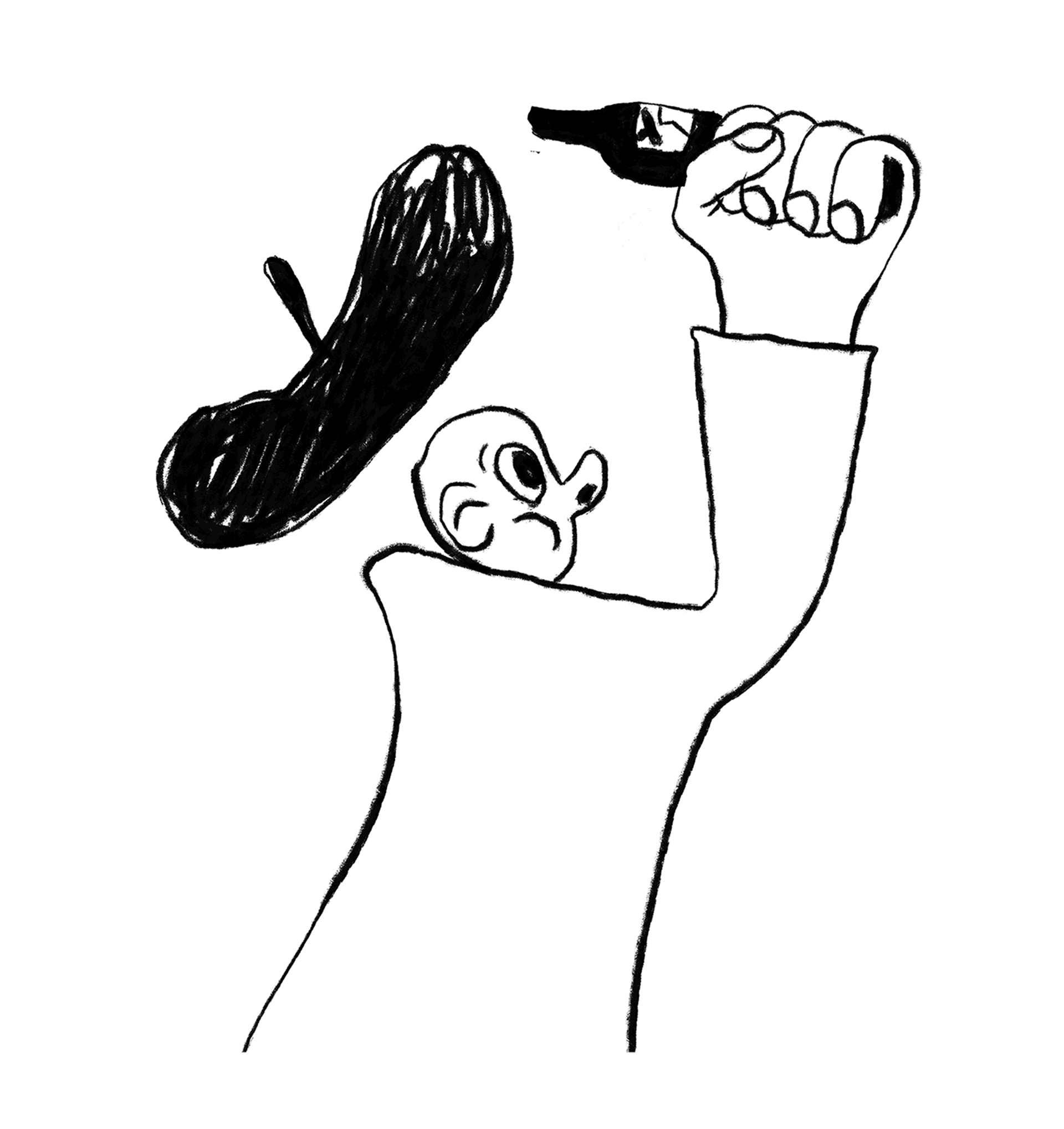 Label for Tompa & Walles Punsch och Snaps.

Tillverkad i liten upplaga i Stockholms utkanter. Närmare bestämt i en källare i Bromma.
Gammal familjetradition i ny tappning.
Pictures: Ella Walfridsson
Lettering/Illustration/packaging